Grade: A
It is rare for a comedy of such simplicity to be so eloquently and so distinguishably educated. Also, it is rare in this century for a film from auteur Woody Allen to be so consistently charming, and for that matter, entertaining. Where Midnight in Paris sets itself apart from his previous outings, is in cleverness and consistency. While his past features of late have mostly continued his tradition of the romantic triangle, they have lost their philosophical edge. Midnight in Paris does not reclaim it; but instead finds its own charm in pure, unadultered literary enchantment.
While I remain impressed  by Sony Classics (or perhaps Allen himself) from refraining from spilling the beans on the actual plot of the film in either the synopsis or the advertisements, despite its tremendous appeal, at this point, the cat is out of the bag. This film is a time travel adventure about a young hollywood hack writer named Gil who freeloads along on his fiance, Inez's (Rachel McAdams), tremendously wealthy conservative family's trip to Paris. Gil is a free-flowing spirit who longs to live in the past, he is working on a novel about a nostalgia shop to dovetail this personal obsession. He believes that Paris in the 1920s would be ideal. Lo and behold after he has had enough of traditional tourist behavior and decides to drunkenly walk through the town at night, he happens to stumble through time and end up in Paris in the 1920s.
Not only does he find himself precisely where he has always dreamed of being, he finds himself in the company of his idols Ernest Hemingway, F. Scott Fitzgerald, Salvidore Dali, Cole Porter, Luis Bunuel, and Gertrude Stein (among many others). Allen does not paint this portrait as a piece of profound historical documentation, so much as a surrealist vision of a dream come true. This is what makes the film work. It keeps its utmost distance from reality or density. By retaining the superficiality and satirical tone of these past sequences, the film maintains the value of the present day and retains the tone necessary to make this film precisely what it is: a fable.
As with any fable, the film holds a simple moral, this one about appreciating one's own time and place. It is true that the film (and much of Allen's work) hits the nail rather bluntly on the head, something that normally finds me in complaint. But here, no other method of conveying would be effective. The film is light, but this is far from problematic; it is necessary. The effectiveness of the screenplay is that rather than accurately depict the historical figures, it allows them to act as embodiments of their work instead. Hemingway in particular, speaks as if he himself were one of his novels. Corey Stoll delivers the lines with such dry demeanor that I fully adorn all of the praise his performance has received.
The film is not a historical drama, it is a loving ode to the moveable feast itself and the many figures that labelled it such. With Gil, Owen Wilson delivers his best performance to date, and Allen finds his best replacement. He perfectly imbues Gil with appropriately awkward neuroticism. As Gil emerges from his fantasy, he returns to his fiance, who questions his mental health. Inez is materialistic and shallow, and clearly not right for Gil. As a result of his voyage, he becomes less and less interested in the reality of his life, and more and more enchanted with his fantasy.
He returns each night and offers up his novel to be proofread by Gertrude Stein (Kathy Bates). But not just his literary side is fulfilled here. A mistress of Picasso (among many other artists), Adriana (Marion Cotillard), becomes the apple of his eye. They are right for each other, unlike Inez. Perhaps too right for each other…
As Gil becomes further and further torn between the two times he occupies, he eventually surfaces upon the afforementioned moral of this story, but not without gaining insight to both his own novel and his own life. Is much of this one-dimensional? Yes. But the film presents a loving array of quirky and both likeable and unlikeable characters (Michael Sheen's know-it-all snob is among my favorites). And it does so with such elegant charm and concise dialogue.
From the moment that the film first spills forth its wonderfully kept secret, one may be able to predict the remainder of the film. But the very idea it presents, regardless of how obvious, is one of simple profundity. Such a compilation of real-life figures has never been presented. And no one other than the great Woody Allen could have summoned them with such admiration and utilized them as a backdrop for his signature storytelling traits. The result is in my humble opinion, the best film that Woody Allen has made since 1989's Crimes and Misdemeanors and one of the better works (with tough competition) of 2011.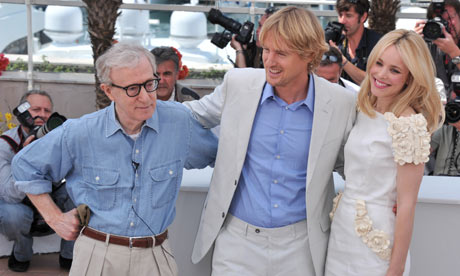 Special Features:
This heavily lacking DVD affords the customer, one feature only: a rather hollow five minute clip of the Midnight in Paris press release at Cannes. Owen Wilson, Rachel McAdams, Adrian Brody and Woody Allen all speak in it. But no questions are asked. And what they have to say is nothing more than the obvious: Allen does long takes, he doesn't direct much, the actors are given freedom, it was a good experience, Paris is beautiful. Yep. Cool. Thanks.
Note: No top five this week, not much worth mentioning.